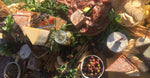 Making the perfect platter yourself is easy & really delicious.
Impress your guests and have fun! The process can help you explore your creative side, and the result is rewarding and irresistible. 
To make it easy, we have put together "a how to", detailing a our tips and tricks so you can feel confident creating your ideal platter.
Equipment.
A platter is the great excuse to use your special serving items, but you don't have to have an awesome cheese board! You can use a wooden chopping board, a ceramic serving platter, even just a clean piece of wood or straight onto a table covered in baking paper. It's handy to have a few bowls in different shapes and sizes for your accompaniments and a few cheese knives also. If you don't have cheese knives, use butter knives or toothpicks, and if you don't have bowls use tea cups or glasses.
What ingredients are needed.
An awesome variety of cheese.. of course!
Choose cheese options to include a variety of flavours and textures (soft like goat cheese, semi-hard like Comte, aged like Gouda). A good idea of how much you need is 50g-70g per person.
Let's break down the cheese types for you.
Bloomy rinds (soft cheese):  Goat cheese, Triple cream, Brie or Camembert

Washed rind: Epoisses, Tallegio & St.Nectaire

Semi-hard cheese: Cheddar, Gruyere or Comte

Hard cheese: Aged Gouda, Manchego or Pecorino

Blue cheese: Gorgonzola, Roquefort or Shropshire
The more people, the more cheese! Soft cheese tends to be gobbled up  first, so when catering for larger groups it is safe to add a double or triple cream like Brillat Savrin as well as an extra washed rind like Tallegio. Blue cheese generally tends to go slower  so keep that one on the smaller scale. Even if you're building a cheese board for two, buy three kinds of cheese, a soft a hard and a blue, then up it to five to seven cheeses for a large party (you may need an extra-large board, or split them across two boards or use a table as the board).
Now we have the cheese, lets build in the accompaniments.
Charcuterie
Charcuterie and cheese are best friends but avoid anything too spicy as it can over power your cheese. Choose 3-5 types of charcuterie, 20-40g per person is a good guide and choose contrasting shapes, colours and styles. For example Jamon Serrano, Jabali , Wagyu Bresaola and Truffle salami. Let these come to room temperature before setting them up on the board. Follow this link for some easy Charcuterie display techniques.
Something sweet and something salty.
Sweet brings the colour and the contrast to rich and spicy cheeses. Lovely fresh fruits, or dried fruit, quince or fig jam, honey is great with blue cheese, whole citrus, panforte, muscatels the world is your oyster really.
For salty some antipasto like olives, grilled peppers, cornichon or piparras.
Something a little nutty
Pecans, walnuts, almonds and pistachios are all lovely, a mix is perfect. Toast them if you have the time for the extra wow factor.
Something crispy
Offer a good selection of crackers and bread that contrast in size, colour and shape as well as flavour. For example, serve round crackers and long cracker sticks, or lavosh bites. Crackers containing nuts, seeds and dried fruits are a great way to offer variety. Italian mother-in-law tongue are always a win and some beautiful French baguette that has been sliced thinly.
Presentation tips & tricks
1) Big bits first
Start by placing big cheese pieces on the board. For best flavour, be sure to let the cheese warm to room temperature for about 30 minutes before serving depending on how warm the day is. For large rounds of cheese you can cut them in half to display the inside.
3) Fill up the space!
Place any small bowls of tapenade, olives, honey, or jam on the board. Then fill in with your charcuterie. Add colour by filling large blank areas with sliced fruit, clusters or grapes or muscatels. Spread your crackers across the board, and nuts, too. There's no harm in repeating segments on the board to fill the space.
4) Add your pretty bits.
Place serving utensils in bowls, and position cheese knives near the relevant cheeses, you can stab them into the cheese if it looks good. Step back and observe your work. Do you see any bare spots that you could fill? For example, a wheel of Brillat Savrin can look much more impressive with a cluster of muscatels draped over it, or if you have a bit of bare space you could pop in some fresh flowers or extra dried fruit.
5) Eat, drink and be merry. If you still feel unsure just pop us a call or come in for a chat when your planning you next perfect platter, we can talk you through exactly what you need to curate your own platter.
 Bon Apetite!