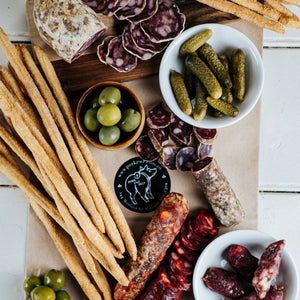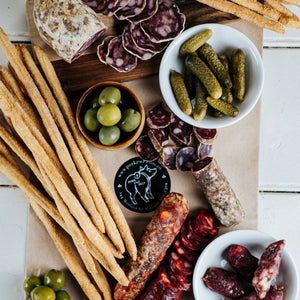 On Sale
The Ultimate Meat Feast
The ultimate Meat Feast for the carnivore in your life who LOVES MEAT!

This ready to eat gift includes a range of delicious whole unsliced Salami & tasty snacks:
- Cacciatore, meaning hunter is a delicious  Italian salami.
- Cacciatore Calabrese,  Italian salami with red wine and chilli.
- Saucisson, traditional french salami, made with Berkshire pork, salt and pepper.
- Chorizo Seco, dried chorizo, cured and ready to eat on your charcuterie board.
- Petit Salami, a selection of these mini size morsels that are bursting with flavour, four flavours including Chilli, Paprika, Fuet, & Bosque
- Cornichon, crunchy pickled cucumber
- Olives
- Grissini, rustic crunchy bread sticks, prefect pared with all things meat. 
- Jalapeno Kikkones - crunchy roasted Spanish Corn Snacks
* Please note all products subject to availability, if a product is not available a similar product will be substituted. Picture is for illustration purpose and may not reflect actual products supplied.