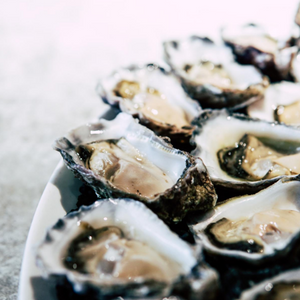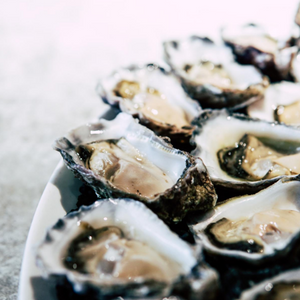 On Sale
Oyster Grazing Dinner for 2 - 4
The perfect dine in, delicious Grazing Dinner including your choice of 1 - 4 dozen oysters ready to shuck, pop on a platter and enjoy.
A great alternative to the standard dinner reservation as it can be enjoyed anywhere and zero cooking required! A substantial dinner for 2, or add extra oysters, a salad or fruit platter and share between 4.
How it works
Your "DIY" Grazing platter has all the essentials for a beautiful dinner, you just need a good sized board/platter, an oyster knife and a couple of cheese knives. Unpack your delicious goodies about half an hour before you want to start grazing, make sure some bubbles or beer is chilled in the fridge and let the gazing begin.  
Whats included?
Seafood:
- 1 , 2, 3 or 4 dozen Seven Seas Sydney Rock Oysters - unshucked (live)
4 Lovely Cheeses:
- A beautiful classic French Brie
- A lovely oozy, buttery French double cream
- A tasty Cave Aged Cloth Bound English Cheddar
- A creamy velvety mild Blue Cheese
Meat:
- Delicious Pate
- Spanish Jamon Serrano
- Finochina (Fennel & Garlic Salami)
- A mix of Petit Spanish Salami
Sides:
- Kikones (crunchy corn snacks)
- Cornichons
- Olives
- Muscatels
- Fig Preserve
- Crackers
- A crunchy baguette
Sweets:
- Catànies (delicious Caramelised Spanish almond coated with dark chocolate)
Delivery & Kerbside Collection Available. Check if we deliver to your area here
Please note all products subject to availability, if a product is not available a similar product will be substituted.