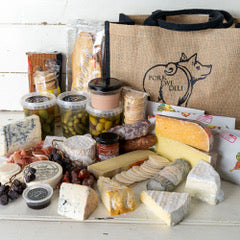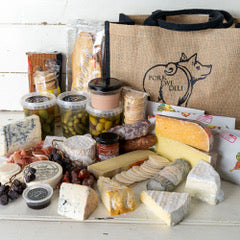 On Sale
The Ultimate Grazing Selection
The ultimate Gourmet Grazing selection.
Provided wrapped & ready to unpack for one epic grazing platter or you could use across a weekend, take away on holiday, or use for a large event  and have everything on hand for all your entertaining.
 Includes 9 hand selected gourmet cheeses*
12 Month Comte 140g - lovely smooth & tasty French Gruyere
24mth Reypenaer Dutch Gouda 140g
Quickes English Cloth Bound 18 month Cheddar 140g
Brillat Savavrin 120g - decadent French Triple Cream
Organic Brie Fermier 125g - traditional French Brie
Vacherousse d'Argental 140gm – silky oozy buttery brie style
Petit St Maure Cendre 110g - lovely ashed French Goats Milk 
Fourme d'Ambert 125g – beautiful mild creamy French Blue
Gorgonzola Picante 125g – Wonderful Italian Blue
Charcuterie Selection – 9 tasty items*
Jamon Serrano 18 mth 100g
Prosciutto San Danielle 24 mth 100g
Sopressa Vincentia 100g
Wagyu Bresaola 100g
Finochina (Fennel & Garlic) Salami 100g
Petit Spanish Salami Mix 150g
Cacciatore, whole mild Italian salami min 100gm
Calabrese, whole spicy Italian salami min 100gm
MR Charcuterie Chicken Liver Pate Jar x 1
Accompaniments*  
1 x Large Tub Italian Sicilian Olives
1 x Large Tub Mixed Australian Olives
1 large Tub French Cornichons
Australian Organic Muscatels
1 x Jar Ugly Duck Jam for Cheese

1 x Packet Italian Lingue 150g Flat Bread
1 x Packet Kurrajong Lavosh Bites
2 x Plain Crispbread for cheese.
 * Please note all products subject to availability, if a product is not available a similar product will be substituted. Picture is for illustration purpose.