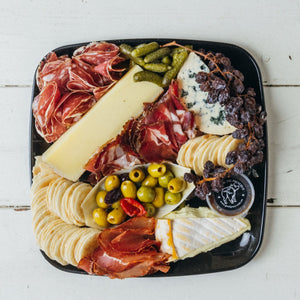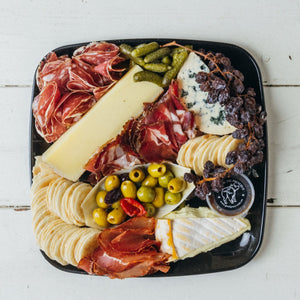 On Sale
Pork Ewe Ready Made Platter
** READYMADE PLATTERS ARE NOT AVAILABLE FOR DELIVERY ***
**PLEASE NOTE READY MADE PLATTERS ARE NOT AVAILABLE DURING THE CHRISTMAS WEEK MON 18 - SUN 24 DECEMBER***
From $89.00
Created for your dining pleasure, beautifully presented with nothing for you to do except enjoy!
Fully prepared, ready made for ease on black platters with a clear lid, remove the lid and you are ready to indulge.
Each platter includes a selection of three seasonal cheeses(4 for large platter), a soft, blue and hard, with three complimenting Salumi's, all from our range of imported and Australian artisan products. As well as cornichons, olives crackers, muscatels and Australian Organic Fig preserve.

Sizes:
Small (2-3 people)
Medium (4-6 people)
Large (6 -8 people)
***PLEASE NOTE READY MADE PLATTERS ARE NOT AVAILABLE FOR DELIVERY ***

* All products subject to availability, if a listed product is not available a different item will be substituted.