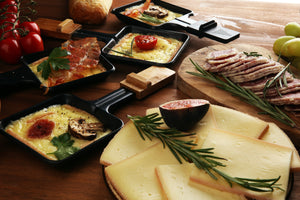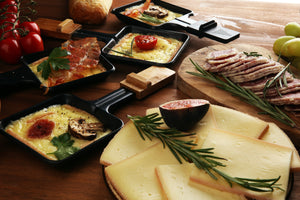 On Sale
Raclette Ingredients Pack
Have your own equipment?
This pack is perfect if you're just after all the extra bits. Available for 2, 4,6 or 8 people.
Each Pack includes
- French Raclette Cheese
- Sliced meats selection of Free Range Leg Ham, Salami, Jamon Serrano & Capocollo
- Accompaniments Selection of Cornichons, Olives, Pipparas & Caperberries
- Instructions and recipe 
Raclette comes from the French word Racler, which means "to scrape". It is traditionally served over boiled or roasted potatoes, gherkins and pickled onions, but we also like to mix it up with other accompaniments like tasty cured meats. Raclette makes for a delicious cheesey and fun dinner!